Dubey was taken in for questioning as a teenager in early 2000s, after beating up some people in his village.
But he was bailed by a local politician and no case was registered against him. From there he enjoyed a meteoric rise in Uttar Pradesh's criminal underworld.
As more and more cases were registered against him, his status continued to rise. But no prosecution was successfully brought. Dubey even dabbled in politics – both he and his wife won local civil polls.
A senior political reporter in Uttar Pradesh said his ambition was to become a state lawmaker, and he was trying to formally enter politics at the time of his death.
Police say that he stole an officer's gun and attempted to escape, firing at officers as they called for his surrender. They say that they fired back, injuring him seriously.
He was declared dead within minutes after police took him to the hospital.
It is a familiar story in Uttar Pradesh.
Police shootings, known locally as "encounters", have become routine since Yogi Adityanath came to power in the state. The chief minister, from the Hindu nationalist Bharatiya Janata Party, promised to improve law and order in the state.
More than 1,000 encounters were reportedly recorded in his first year in power. His opponents have accused the police under Mr Adityanath of using excessive force.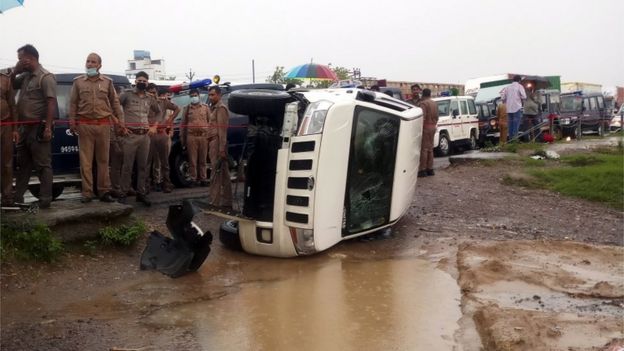 Some on social media have raised doubts over Dubey's death,
querying the official version of events, and asking why a suspect who reportedly surrendered to police would then attempt to escape, and how he would be able to take an officer's gun.
Police said he was arrested in a dramatic manner from a temple complex in Madhya Pradesh.
But opposition parties said Dubey chose to publicly surrender at the temple after successfully escaping arrest for more than a week.
The case has been dominating headlines in India ever since the shootout last Friday that led to the death of eight police officers. Two of Mr Dubey's aides have been killed in clashes with the police since.
And an inspector belonging to a police station near Dubey's village was arrested over allegations that he helped the fugitive.
Officers were looking for Dubey last week in connection with a previous case when they were fired on from a height, they said, leading to heavy casualties.