With his daily feed of detailed satellite imagery of the India-China army standoff in Ladakh, open source intelligence analyst 'DetResFa' has become one of the most sought after sources of information on the continuing border tensions. His viral feed now wildly popular among enthusiasts and serious observers, he opens up to India Today's Shiv Aroor in his first-ever interview.
Shiv Aroor New DelhiJune 2, 2020UPDATED: June 2, 2020 20:20 IST
Renowned open source intelligence analyst 'DetResFa' speaks to India Today on India-China army standoff in Ladakh
China never expected the Indian Army to turn their own playbook against them — India's reciprocal infrastructure measures caught them by surprise – these are the words of an individual identified only as 'Detesfra', a name now wildly popular and highly sought after on Twitter amidst the India-China army standoff in Ladakh.
With an ironic mix of Chinese propaganda and very little specific official word from the Indian government, the information void has been gamely filled by a handful of open-source intelligence (OSINT) analysts, who have leveraged their access to the latest commercial satellite imagery and digital skills to provide detailed visual canvases of the high altitude battlefield. But none have provided more mesmerisingly detailed, easy-to-grasp imagery than DetResFa.d-atis@detresfa_
Rudimentary, but self explanatory ?
Feel free to use if you need it ! #PangongTso #IndiaChinaFaceOff

2,326Twitter Ads info and privacy928 people are talking about this
When he heard about the standoff through media reports in early May, he quickly trained his focus on the story. After doing deep OSINT work on the Doklam standoff in 2017 and the Balakot airstrikes last year, DetResFa knew he couldn't pass this up.d-atis@detresfa_
Satellite images help spot another #China PLA position near the #Hotsprings Sector show large scale vehicular activity throughout may consistent with media reports of the region

(15Km NE of #India base, #Gogra & 6Km from #LAC)



https://goo.gl/maps/QsjsybcvQeT3dDht7 …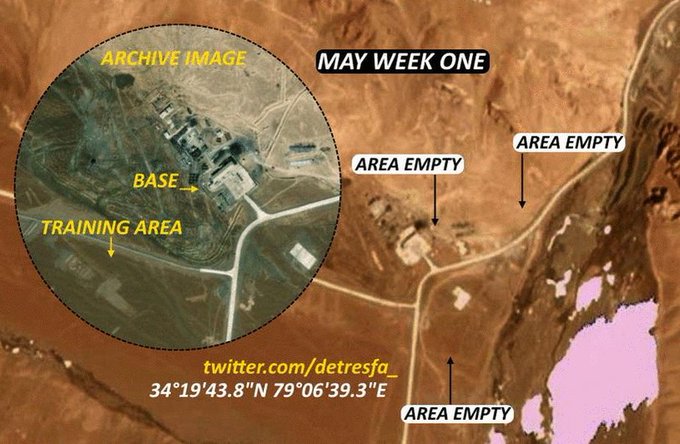 333Twitter Ads info and privacy126 people are talking about this
"The Chinese military has always presented a fait accompli, infrastructure-wise to India. They go in and do things and create 'facts on the ground', the way Israelis do in the West Bank. They have been building up capacity along the Line of Actual Control as well," DetResFa says in his first-ever interview to media.